Write
Write using any PilotFriXion™ pen.
Scan
Scan your page to save for later using the free Rocketbook app
Share
Share notes automatically to your favorite cloud services using the app.
Reuse
Wipe your pages to reuse again and again
The Notebook That's always ready for more
A pen and paper experience plus limitless
storage. Build your notebooks in the cloud, then wipe the pages clean to use again and again.

Shop Notebooks & Planners
Brian and ANGELA'S FAVORITES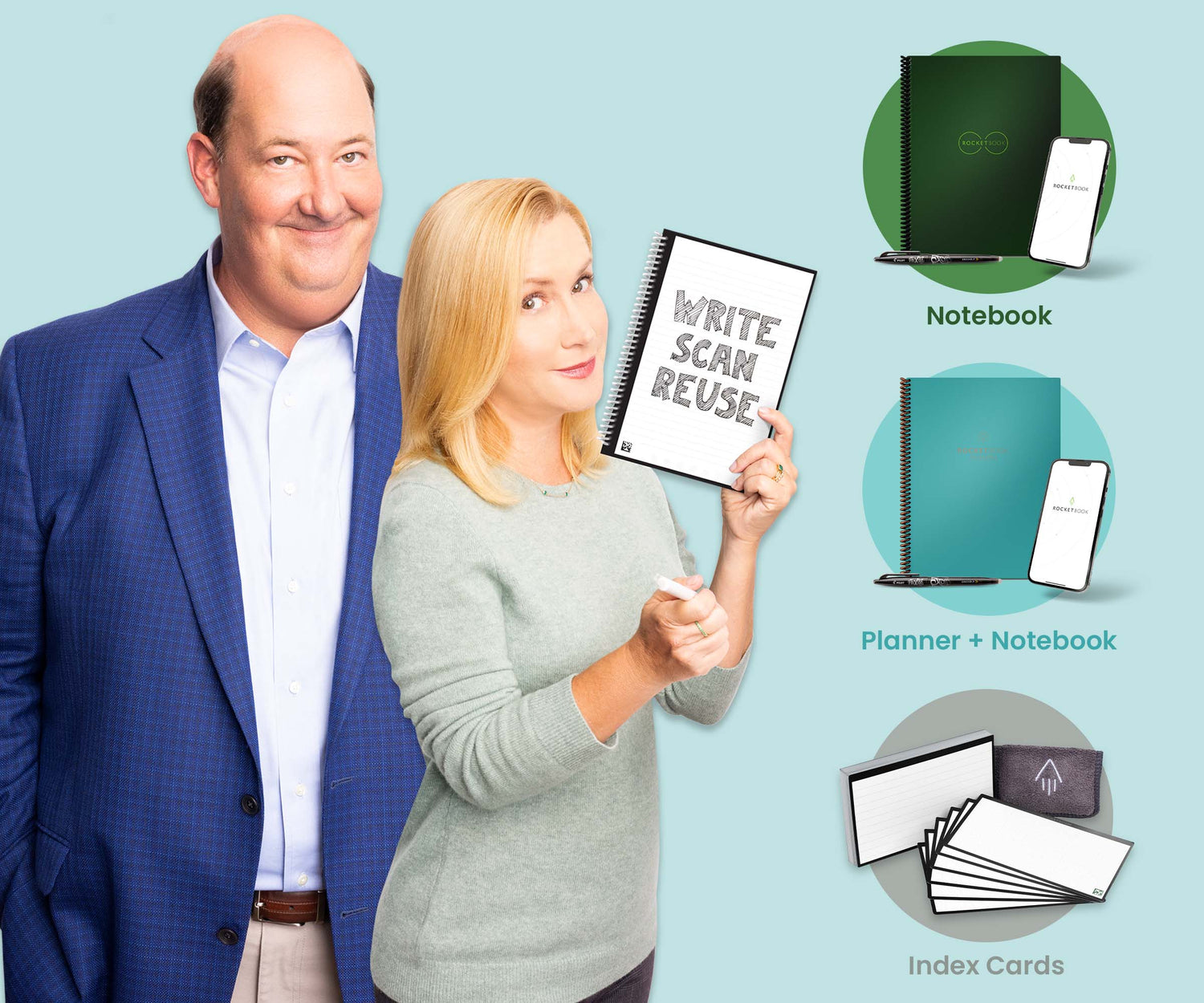 Quick view

Rocketbook Core

Regular price

$ 34.99 $ 36.99

Regular price

$ 34.99

Sale price

$ 34.99 $ 36.99
Quick view

Rocketbook Fusion

Regular price

$ 37.99 $ 39.99

Regular price

$ 37.99

Sale price

$ 37.99 $ 39.99
Quick view

Rocketbook Cloud Cards

Regular price

$ 19.99 $ 27.99

Regular price

Sale price

$ 19.99 $ 27.99
Rocketbook Core
2 sizes available
Regular price

From $34.99

Regular price

$34.99

Sale price

From $34.99
Quick view
Rocketbook Fusion
2 sizes available
Regular price

From $37.99

Regular price

$37.99

Sale price

From $37.99
Quick view
Rocketbook Cloud Cards
2 sizes available
Regular price

From $19.99

Regular price

Sale price

From $19.99
Quick view
What They're Saying

I've always been a fan of pen and paper—especially when coming up with new content ideas.  I like being able to write down my creative ideas rather than typing them as it feels more organic and in the moment. Rocketbook provides a unique opportunity to maintain that authenticity while staying connected to the digital world.

Angela Kinsey
I'm constantly writing things down for my various projects—whether it be to-do lists, recipes, script annotations—you name it. Writing my notes by hand makes them feel more real, and the automatic cloud sharing features offered by Rocketbook makes it easy to share my thoughts with my team quickly and efficiently

Brian Baumgartner
As Seen In